Books We've Written
The principals of Elementary Business are the authors of two books about business. The first one, 9 Lessons for Business Success, is available at Amazon.com. The second book is about our Informal Bankruptcy process and will be available shortly.
We'd love to answer any questions that you have after reading our books. Please feel free to contact us.
---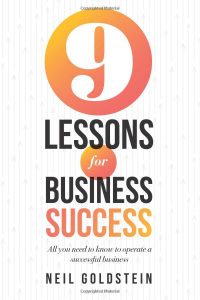 9 Lessons for Business Success: All You Need to Know to Operate a Successful Business
Each chapter highlights an important area of operating a business. From what a business owner or manager should be working on each day through profitability, bank loans, credit and collection, efficiencies in shipping, inventory and much more. Actual case studies are used to give the reader examples of what was wrong in a company causing it to underperform or just fail, and what should have been done to avoid the problems. Written for a business owner struggling to make payroll or pay vendors, 9 Lessons for Business Success can be read in its entirety or just one chapter of interest. The book should be kept close by for a quick reference on how events taking place in the moment might be solved in a positive, constructive way. Recognizing that each business is different, and no two problems seem the same, the author has offered a link for purchasers of the book to send questions on specific problems encountered by the reader. To those who are considering starting a business, this book is a must. It will help the reader begin operations in the most efficient, profitable way, and help to avoid problems often made by novices.
---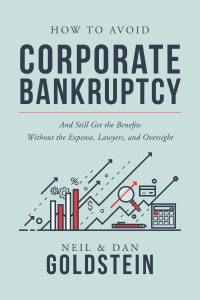 How to Avoid Corporate Bankruptcy and Still Get the Benefits Without the Expense, Lawyers, and Oversight
Filing for bankruptcy can save a company, but it's an onerous and unpredictable process. Bankruptcy costs a lot of money and time. Lawyers are required at every step and management needs to find new financing when the financing is frozen. There's a chance that the court may not approve the recovery plan or that a third-party management company can take over. Elementary Business has created an alternative to bankruptcy – the "Informal Plan". We've used it over 20 times to save companies in trouble. There's no court, no trustee, no creditor committees, and far lower legal expenses. The Informal Plan also keeps management in control and focused on operations. No mystery here, success can be achieved on a Do It Yourself plan. The book includes a how to do it, what to say to creditors and useful hints on how to offset difficult issues. It works.
We've taken some of the best parts and put them into a short eBook you can get for free by clicking the link below.